The Joys of the Nissan Brand
It can be hard to shop for a new car. Not only are there many types of vehicles, but there are many brands, and it can be tough to know where to begin. To decide what's best for you, it helps to know what a brand is known for.
So what about Nissan- what is it that makes their vehicles special? In view of their ever-growing popularity, why do so many people seem to like them?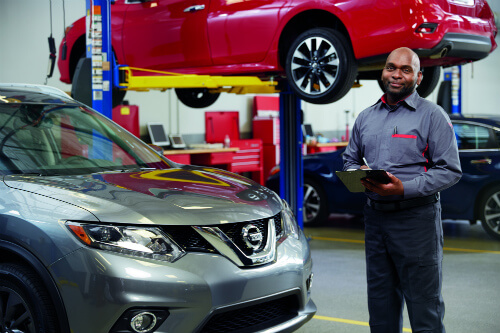 Proud Workmanship
The first thing to note is the all-around solid craftsmanship Nissan puts into every vehicle in its lineup. Without a name as widely-known as Honda or Toyota to fall back on, Nissan really has to deliver above-and-beyond with every offering. And they do.
Each model year, Nissan vehicles manage to innovate while maintaining what made them successful in the past. Their machines are well-constructed with high-quality materials that will withstand everyday use and abuse.
Generous Value
Nissan vehicles are also known for delivering a whole lot of car for the money. Starting MSRPs are low, while standard feature lists are long and performance stats high.
Enjoyable Performance
Nissan has a wide variety of vehicles in its expansive lineup, ensuring you can find the one that's right for you. But no matter what you choose, you can be sure it'll be a blast behind the wheel. Whether you want a sporty cruiser, off-road tackler, or family hauler, they will all supply a satisfying burst of driving power focused within the bounds of tight handling.
Responsible Efficiency
Even though Nissan vehicles supply satisfying power, efficiency does not take a hit. These engines do not neglect the importance of good gas mileage, bringing smiles both to your wallet and mother Earth. It's not easy these days to find such well-rounded machines that don't prioritize one side too heavily at the expense of the other.
Unique Styling
Nissan vehicles are also known for the unique, sporty styling they bring to the table (drawing on a variety of sometimes-unexpected influences). They manage to stay distinctive in a world of cars that can be increasingly more difficult to tell apart. The Nissan Murano, for example, despite finding itself in an increasingly crowded segment, still manages to stand out with pride.
Sporty exterior styling doesn't sacrifice interior comfort, however. Nissan interiors are known for their roominess, intuitive design, and high-quality feel.
Forward Thinking
Nissan hasn't been afraid to take risks, but those risks have paid off. The brand offered a subcompact before anyone else in the form of the Nissan Juke. They infiltrated a void in the high-end sports car segment with their Nissan GT-R. The Nissan Titan has carved out a place for itself with its diesel V8 engines. And the Rogue and Murano redesigns hit the timing perfectly for the crossover market boom.
Nissan is a company that's not afraid to innovate. This is reflected in how they are constantly refining their vehicles, and are not afraid to change things up at the slightest whiff of stagnation.
More From Charlie Clark Nissan El Paso TX
Enjoy Card Games and Science Projects During the Stay at Home Order in El Paso, TX