The Nissan Pathfinder has been one of the best-selling SUVs on the automaker's lineup for many years now, and it is sure to see plenty of success in the 2019 production year. While there are dozens of reasons as to why countless consumers continue to choose the Pathfinder over the competition, one of the frontrunners is its ability to provide passengers as well as their luggage with an ample amount of interior space. Simply put, the Pathfinder is one of the most spacious cars in its class, and the customers everywhere have taken note. So, exactly how much cargo space is in the 2019 Nissan Pathfinder? We have everything you need to know, so keep on reading!
Read more: What are the 2019 Nissan Rogue Exterior Paint Color Options?
2019 Nissan Pathfinder Cargo Volume Measurements for Each Seating Configuration
If you're the type of SUV driver who often adjusts their three rows of seating, then you're probably wondering, "What are the 2019 Nissan Pathfinder cargo volume measurements for each seating configuration?" In other words, what does your cargo volume look like with one, two, or all three rows of seats upright and occupied?
Well, with all seven seats upright, the base cargo space of the 2019 Nissan Pathfinder is 16.2 cubic feet. Fold down the third row, though, and that number quickly jumps up to 47.4 cubic feet. Then, when you fold down the second-row seats as well, you'll gain access to the maximum cargo capacity of the 2019 Pathfinder – 79.5 cubic feet.
In the event that you need even more room for your stuff, don't forget about the standard roof rails! Similarly, when properly equipped, the 2019 Nissan Pathfinder can tow up to 6,000 pounds. Needless to say, this vehicle is just as versatile as you need it to be. With all of that in mind, it's no wonder why so many consumers choose the Pathfinder every single year.
Read more: New Standard and Available Features for the 2019 Nissan Murano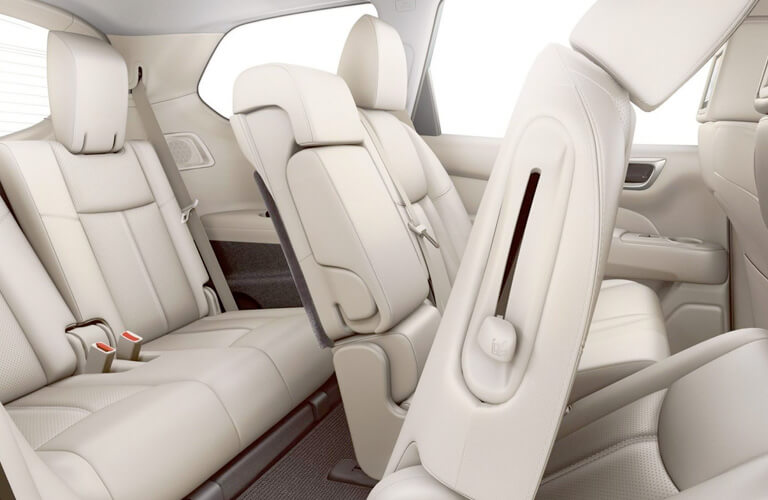 Sharing is caring!